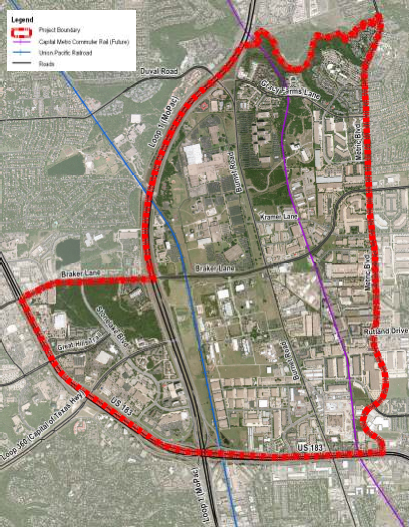 WHAT:

The City of Austin is planning to rezone and set the bar for a new type of mixed-use growth in this North Austin area of town that would possibly turn it into a high-rise, metropolitan district.The North
Burnet
Gateway neighborhood district is larger than both the
Robert Mueller redevelopment
and the
Downtown Central Business district
. Through rezoning and transportation planning the city hopes to eventually turn this area into a pedestrian friendly transit oriented development that would incorporate 30-story buildings right next to bike paths.
WHERE:

The North
Burnet
Gateway Planning Area is located in the north part of Austin's Urban Core. The boundaries for the planning area are Walnut Creek on the north, Metric Boulevard on the east, US 183 (Research Boulevard) on the south and west, and Loop 1 (
Mopac
) on the west.
WHY:

This 2,300 acre area of North Austin originated as an industrial district that was home to
IBM
, The University of Texas'
JJ
Pickle research facility and other large business developments. Over time shopping centers such as Gateway and the
Aboretum
have helped the area grow to support retail as well as office. With a unique location along
MoPac
, US 183 and
Braker
Lane and a future stop of the
MetroRail
commuter line the North
Burnet
Gateway stands to become a major transit hub. This area of town is also far less ecologically sensitive and is primarily outside of the Edwards Aquifer Recharge Zone.
HOW:

Last summer the neighborhood planning and zoning department took community input during a week-long workshop. They used this input along with help from consultants to create a draft plan that includes zoning,
subdistricts
, road projects and areas targeted for development. The city presented this draft to citizens March 24 for feedback at a public meeting which all businesses and homeowners in the affected area were invited to. The city is
still taking feedback
until April 14. The next step is for the plan to be completed and then submitted to the city's boards and subcommittees before adoption by the city council.

WHO:

The City of Austin has hired Carter+Burgess as the prime consultant for the North
Burnet
/Gateway Plan. The
Carter+Burgess
team includes Land Design Studio,
HDR
Engineering,
WHM
Transportation Engineering,
GMSA
Management,
Estilo
Communications, and Raymond Chan & Associates.

WHEN:

Most of the plan's initiatives aim to take effect over the next 20 to 30 years.